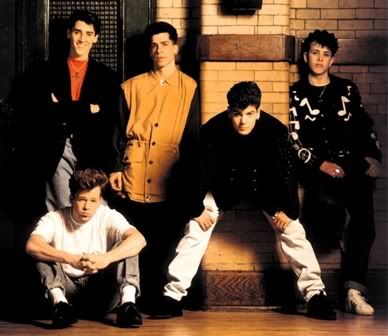 Then.
I was seriously considering going to see New Kids on the Block in Boston in September. The 13-year old in me was saying things like: "OMG! New Kids! In Boston! Their HOMETOWN! HOW AWESOME WOULD THAT BE? OMGOMGOMG!!!!"
And then I saw this:



LOGE*FIRST LEVEL OF ARENA LOWER SECTION

US $55.00 - US $75.00

FLOOR*ALL SEATS FLAT ON FLOOR

US $75.00

CLUB*SECOND LEVEL OF ARENA JUST BEHIND LOGE

US $75.00

BALCONY*FOURTH LEVEL OF ARENA UPPER SECTION

US $35.00 - US $55.00
That's before Ticketmaster even adds on their surcharge, which usually ranges from $10 to $15. I, admittedly, adore the New Kids. They were my first concert when I was 13. I really wanted to see them as a 31-year old. Seriously.
And then I listened to their new single on their Myspace page, and...what are the chances that I pay a shit ton of money to see them and they DON'T perform the new stuff? The new stuff that isn't as fun or as catchy as their old stuff? Slim? To none?
So, sorry 13-year old self, but you got to see them when it mattered. Adult self isn't paying that much for the old men on the block. They're still hot, but the music isn't, and isn't it the music that matters?
Besides, I really just wanted to see Donnie Wahlberg, because he's awesome.
Now.